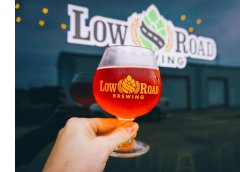 By Kerri Allen

Imagine taking over your favorite brewery because you liked it so much and didn't want to see it go away. Lynette Shoaf and her husband, Tim, did exactly this with Low Road Brewing in Hammond, Louisiana. The community's thirsty patrons have been appreciative ever since.

According to Lynette, "Low Road was originally opened in 2017 by a former homebrewer after retiring from a corporate career. My husband, Tim, and I enjoyed the atmosphere and became regulars in the taproom. We were avid home mead makers at the time, and the original Low Road owner would invite homebrewers to bring their recipes in to brew with him. The brewery would then feature the guest beer on tap for a month. This experience was our introduction to brewing beer, and we brewed with him several times over the first few years. In early 2020, the original owner wanted to retire again, and we decided to purchase the brewery. We didn't want to see the brewery close and felt we could grow the business. We signed the purchase agreement the week before COVID shut the world down. We continued working full-time jobs in the corporate world while operating the brewery once restrictions allowed us to open at partial capacity. This allowed us to keep the brewery open."

Raise your pints to Louisiana's first female head brewer - Lynette Shoaf! In early discussions, her husband and fellow owner, Tim, would be the brewer, and Lynette would handle the front of the house and other business areas. Like any good story, this one has a twist. Lynette shares, "We quickly realized I was better at recipe creation, and I really developed a passion for brewing. I started learning as much as I could about brewing through books, professional organization resources and from other brewers. Tim stepped back from the brewery, and I became the first female head brewer in the state."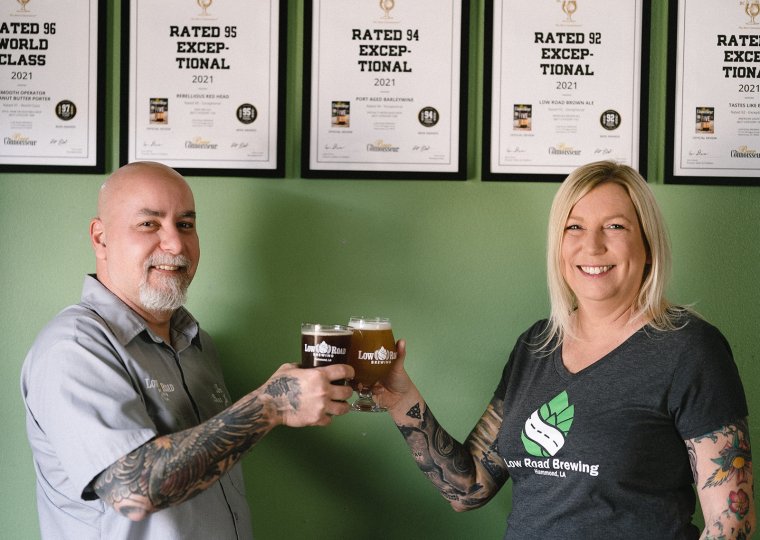 Challenges Create Strength
After dealing with the pandemic and all of its challenges for businesses, Lynette and Tim have been successful in growing Low Road. Lynette recalls, "In late 2021, we changed our licensing from a brewpub to a manufacturing brewery so we could go into distribution. This has really fueled significant growth for our brand. With only a 3-bbl brewhouse, it requires a lot of brewing to keep up with taproom and distribution demand."
Being flexible and working through challenges says much about Lynette's passion for the craft and her understanding of the business. Owning a brewery is not a walk in the park. People who do not know better probably imagine a leisurely brew day with a relaxing pint at the end. However, those familiar with professional brewing understand the huge amount of work, cleaning and maintenance involved. These are the challenges of living out the dream of making beer for the public. On this thread, Lynette comments, "Even though we eventually added some part-time brewhouse and taproom staff, I was often working 15-18 hour days between my other job and the brewery, and the stress began to take a significant toll on my health. I eventually decided to leave my job in the corporate world to focus on our brewery full-time."
When asked about her favorite part of being involved in a brewery, Lynette responds, "I love working in an industry where the other brewery owners and staff are collaborative and supportive of each other, rather than being competitive like most other industries. Most people in craft beer seem more than happy to share knowledge and resources and work together to improve the industry."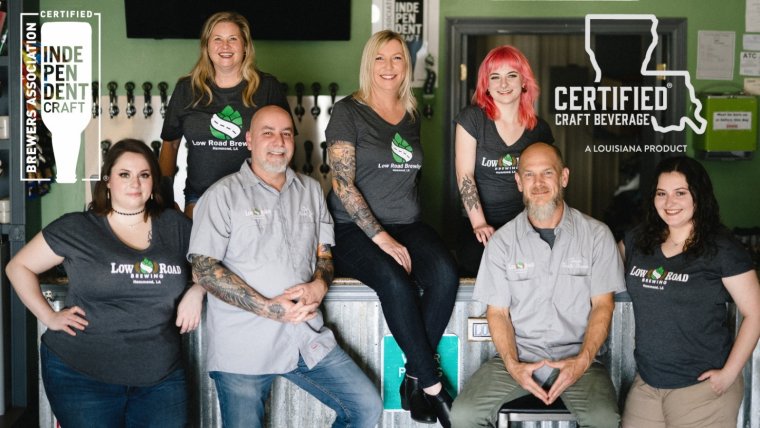 An Evolving Brewing Landscape
Every good job has its challenges and rewards. Lynette says that her biggest challenge "has been staying profitable in a constantly changing environment. Changing consumer habits and tastes and rising ingredient and supply costs, paired with availability issues, often create a struggle. Craft beer consumers expect our core brands to be consistent, available, and reasonably priced. When ingredient prices rise, or something isn't available, we can't always substitute something else without affecting the final product. So, you might have to raise prices, which the market will only tolerate so much. We never want to run out of one of our core products. It's much harder to bring consumers back to that product once they move on to something else. Fortunately, the majority of our beers are traditional beer styles. Our top sellers are an American lager and an Irish red ale, so current trends moving consumers back to these traditional styles actually work in our favor."
What is rewarding after all of the challenges? Lynette states, "The greatest reward is when a patron comes into the taproom for the first time, and I get to see their reaction when they try my beer. If they have no idea who I am, and they appreciate my beer, it's a wonderful feeling. Having people genuinely enjoy something I created makes it worth the long hours, hard work and stress-filled days."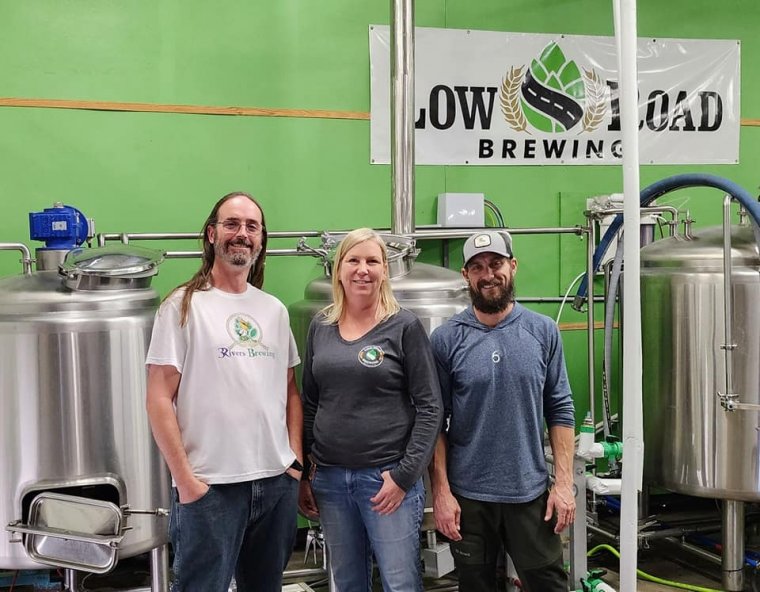 Not All Brewers Have Beards
Women make up half the population of the world. So many industries miss opportunities to have amazing people working in them because of a "boys club" mentality. When asked why women are important to the industry, Lynette responds, "Just like any industry, a variety of people with different ideas, backgrounds and personalities are vital for growth. If everyone in the industry is the same with the same ideas, the craft beer industry stagnates. We need the creativity and variety that arise from having many different people in the industry, each challenging the others to improve."
For craft breweries to attract more women, Lynette believes that the public's perception of a craft brewer needs to change. "There have been many instances in our taproom or at a craft beer event where someone assumes Tim is the brewer," she relates. "They ask him about a particular recipe or process, and when he admits that he doesn't know and that I'm the brewer, people sometimes don't believe him. I've been referred to as 'the owner's wife' or 'the brewer's wife' on multiple occasions. The expectation that a brewer has to be a 30-something white male with a beard needs to shift."
Community Connections
What can people expect when paying a visit to Low Road Brewing? Lynette stresses that Low Road is a brewery with a heart for the community. She adds, "One of the things we love about owning a brewery is that it gives us a great platform to support veterans. Our top-selling beer, Twenty-Two American Lager, is brewed specifically for this purpose. We donate 22% from sales of this beer to Irreverent Warriors, a nationwide program that works to improve veteran mental health and prevent veteran suicides. We also host an annual amateur wing cookoff and homebrew competition called 'Wings & Ale.' This November festival raises funds for our local VFW." Head on down to Low Road Brewing in Hammond, Louisiana, hoist a tasty pint and help some deserving veterans in the process.
This article was first published in:

Photos Courtesy of Low Road Brewing